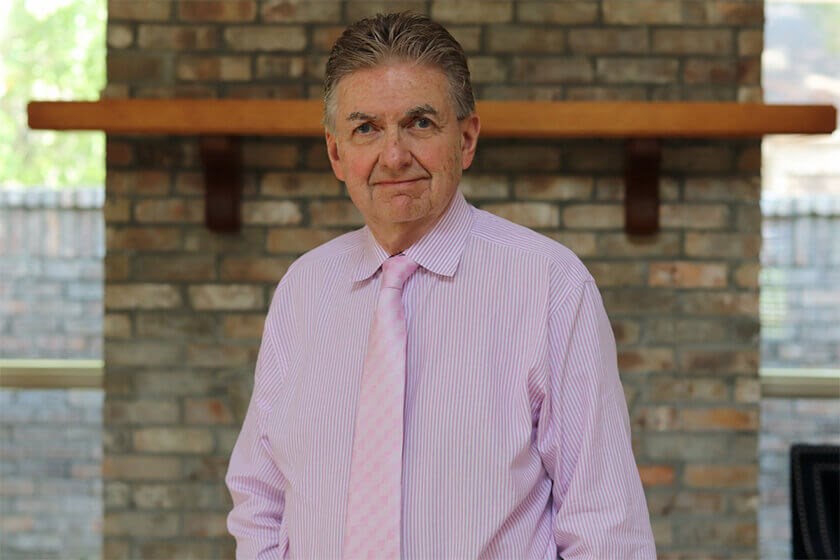 Helping men and women achieve the looks of their dreams since 1981, board-certified plastic surgeon Dr. John V. Williams and his staff at the Plastic Surgery Center of Baton Rouge uphold a strong reputation of plastic surgery success among their community of satisfied patients in Baton Rouge and Alexandria, LA. Featured as one of America's most accomplished physicians in the 2019 "Who's Who Top Doctors Honors Edition," Dr. Williams's unique path to the forefront of the field of plastic surgery has taken him all over the world. With his diverse experience and eye for beauty, he emphasizes open communication with his patients so he can understand their needs and goals to attain the aesthetic they desire through the most modern and safest methods possible.
Dr. Williams's medical training began with the National Health Services in London, England, and the Sahlgrenska University Hospital in Gothenburg, Sweden. He started surgery training at the internationally acclaimed McGill University in Montreal, Canada, and finished his general surgery residency at the prestigious Columbia Presbyterian University in New York City, United States after graduating medical school from the University of Medicine and Dentistry of New Jersey (UMDNJ) in Newark, NJ. Dr. Williams remained in New York City to complete his plastic surgery training at Weill Cornell, the New York Hospital, which is one of the highest ranked medical centers in the United States. He also received advanced liposuction training in Paris, France from Dr. Yves Illouz, one of the inventors of this popular procedure.
Dr. Williams prides himself on customer satisfaction and goes above and beyond to ensure the best possible outcome for every patient. After performing over 4,000 successful breast augmentations and countless breast lifts, tummy tucks, and facelifts, he's confident he and his staff at the Plastic Surgery Center of Baton Rouge will live up to their reputation as the best in their industry. He is also pleased to offer nonsurgical treatments, such as BOTOX, dermal fillers, PRP therapy, and laser peels.
Dr. Williams is honored to be a member of the following nationally and regionally accredited associations:
The American Society of Plastic Surgeons (ASPS)
The American Society for Aesthetic Plastic Surgery (ASAPS)
Louisiana Plastic Surgery Society
The Royal Society of Medicine
East Baton Rouge Parish Medical Society
Dr. Williams is widely recognized as one of the top plastic surgeons in Louisiana, which has earned him the following decorations:
Honor Roll Award by Healthgrades
Compassionate Doctor Recognition by Vitals
Patients' Choice Award by Vitals
On-Time Doctor Award by Vitals
Global Directory of Who's Who top Doctor 2019
Reviews
"Eyelid lift & Ultra Sonic Lipo - Dr. Williams performed a breast augmentation on me 9 yrs ago. They still look fab! Dec 27th he performed an upper eyelid lift along with Ultra Sonic Lipo. I'm am absolutely thrilled with the results on both. I've been told it's taken 10 yrs off my eyes. The lipo results are fantastic. Very painful but well worth it. I've been in the gym but couldn't lose my tummy, inner thigh fat & back fat. My tummy's flat now! So thrilled with his work. Would I recommend Dr. Williams? Absolutely!!!"
Anonymous
Vitals
"Satisfied patient - Dr. Williams and Maura are excellent in patient care and going above and beyond not only for patient satisfaction, but also to keep patient and family educated with what to expect! They are highly knowledgeable and skilled in their field of training! I would highly recommend dr. Williams and all of his team!"
Anonymous
Vitals
"Five Stars - GREAT DOCTOR!! GAVE BE AN AWESOME NOSE AND ALOT OF CONFIDENCE!! HIGHLY RECCOMEND.VERY PROFESSIONAL."
Anonymous
Vitals
"satisfied patient - Excellent experience. Dr. Williams performed my breast augmentaion last year & my scars healed beautifuly. Dr. Williams & his staff took the time to answer all of my questions & were very professional ."
Anonymous
Vitals
"Five Stars - Love is an understatement! Dr. John and his staff are absolutely AMAZING! Sweet, helpful, funny! They can answer any question you may have, and if you have an issue with something they solve it. In 2014 I went to them for a breast augmentation, from my first appointment to the last was such a great experience, not to mention how perfect they came out. I've sent at least four people there, now my sister and they can each say the same exact thing. Nothing but great things, not one complaint. I am now going to them once again for rhinoplasty, and I couldn't be happier. Trust is hard for me, especially after my first two were such horrible experiences. But one person I will never doubt will be this team right here. Thank y'all from the bottom of my heart for everything y'all have done for me and many others I know. Dr. John Williams and his team are the way to go! Trust me(:"
Anonymous
Vitals
Related Posts